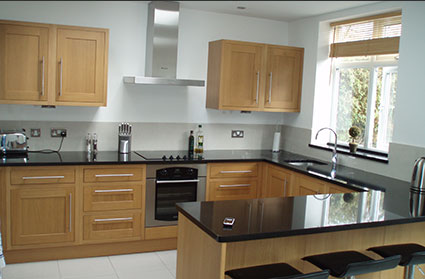 The kitchen is no longer just a place to cook, it's very often the place to entertain too, and our experienced team can serve up a flexible, stylish space that you will love to cook in and enjoy with your family and friends.
We undertake all kitchen fitting requirements, whether you would like us to design the layout or work from your own design. We can source a wide range of cabinets from popular 'off the shelf' designs to bespoke handmade cabinetry and will work within your budget to create your perfect kitchen.
Whether you want a shop bought fitted kitchen built and fitted by professionals, with minor adaptations carried out by us or a kitchen designed and built from scratch.
We have designed, built and fitted kitchens of many different styles. If you would like a free quote please do not hesitate to contact us.